-

25

mins read
Are you looking to build an adult membership website to make money? 
I think you would agree that starting an adult membership site is a serious business and it requires hard work. With tons of benefits of membership site, it's also an obligation to go through a long way before you can start earning with it. 
This article is all about making that 'long way' as easy as possible for you.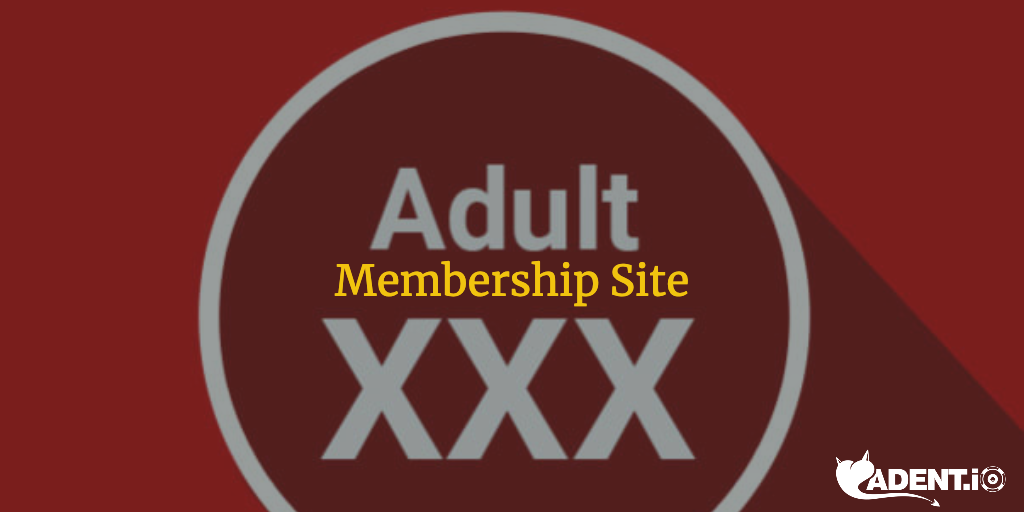 We will talk in detail about the moves you can make one after another to build your membership website and then start making money with it. You will also find some examples of successful adult membership sites who used these tactics and are now making over $100K annually. 
Let's begin with the basics. 
What is a Membership Site?
To be precise, a membership website lets you add content and put them behind a paywall so that only the users with a membership can access them. 
The money users pay you to purchase the membership would be your primary revenue channel. Just like Netflix. All the awesome content on Netflix is behind a paywall, which you can access only if you purchase one of its membership subscriptions. 
Now, Netflix offers dozens of membership packages in different regions with different benefits. The variety of packages allow Netflix to optimize its primary revenue channel and keep a balance between the needs of dissimilar users and what Netflix needs to do to maximize its profits:
Most expensive plan with all the benefits unlocked (Multiple screens, 4k streaming, and all kinds of devices, etc.)

Cheaper plans with limited benefits (Limited Screens, SD and HD streaming, and limited devices )
If you think you can attract users with your content, creating a membership website is undoubtedly a viable business idea. Especially in the lockdowns due to the COVID-19 pandemic, it's a great time to attract millions of users to your platform. These people are looking for content to watch at home. There is no limit to the kind of content you can put behind the paywall of your membership website- Movies, Shows, Documentaries, Online courses, Premium Forums, Webinars, Sports events, etc.
Here, we are focusing on building an adult membership site, so our content is also adult. Porn, to be precise. For example, Brazzers, RealityKings, Mofos, Digital Playground, FakeHub, Naughty America, BangBros, and hundreds of many others are there in this list of top adult membership sites on the internet. 
Benefits of Membership Websites
Having an adult membership website gives you tons of benefits upfront. As compared with other types of adult websites, an adult paysite gives you more in terms of every advantage:
Increased / Full Control on the revenue
You have absolute control on your revenue channels, for you are the one who decides the things like-
How many membership packages to offer to the users

What should be the membership price of each package

What should be the unique benefits in each package

What can be done to attract more and more members
Here, you need not worry about driving more traffic to increase your revenue. Instead, you can focus on offering the best experiences to convince a user to purchase your membership. 
The amount of ad-revenue you can expect to make from a porn affiliate network after driving millions of users as traffic, you can make the same or even better with just 100 users purchasing your membership plan.
You need not depend on a network or any kind of intermediary. Everything is directly between you and your users. It's like selling a product, except that a porn paysite allows you to sell your memberships repeatedly over time, which is even better.  
Loyal Fan base / Strong community
With other kinds of adult content websites, you don't get a chance to connect with your users. They merely remain just the users to you throughout their lifecycle. They come to your website, you direct them to some affiliate network, and affiliate websites take it from there. 
When you run or own an independent adult membership site, you build your customer base. Your users interact with your website and purchase your membership plans. In other words, you are making a relationship with your users and converting them into your paying customers. 
Having this allows you to build loyalty and credit among the users. It makes it easier for you to convince members to renew their memberships, where you can run several loyalty-boosting campaigns, too. This is where you begin with a successful operation when customers come back to purchase repeatedly from you. 
What do you think about Pornhub making its premium membership FREE at the beginning of the lockdown in March 2020? Did it give away its primary revenue channel like that?
Not at all. Pornhub was building customer loyalty and strengthening its community. Besides, the brand also got ample coverage in both adult and mainstream media, which added to its word of mouth popularity. 
Selling both digital and physical goodies
Almost everything you offer on your membership website is digital. It's all data, information, and service. This allows you to offer many benefits to your customers, without hurting your bottom line. Selling adult content via memberships requires no shipping, no logistics, and no warehouses. 
Just a good website with good content behind a paywall is enough. 
Besides, you can accommodate many other types of digital products along with the primary offering, which is porn. You just need a little modification in your business model. You can get a modern adult site CMS. This will allow you to start accepting user accounts from adult models, who will sell their video clips, nudes, social media access, and private chat services on your website. 
Here, you can generate additional revenue by charging commission cuts from these models. 
However, things do not end here. A good adult website CMS can also add physical eCommerce features to your paysite. You can sell adult toys and other erotic products to generate even better revenue.  
In short, an adult membership site capable of functioning both as a paysite and eCommerce site would be your best bet in the contemporary business scenario. 
If you are thinking about building such a website, then our xMember script is an ideal solution for you. We will talk about it later in this article. For now, let's check out some successful websites, which were built using this script.   
Successful Adult Membership Sites built using xMember
Following is the list of some of the most successful adult membership sites built on the xMember script:
juicysucker.com
The website of Juicysucker is all about the most intense erotica presented with some of the most beautiful Pornstars on the planet. They offer some of the most reasonable Monthly, Quarterly, and Bi-Annual plans in the industry. It features scenes from top names like Tessy Wild, Roxy Staxx, Angie Russ, and Roselyne Simon. 
Plans:
1 Month Subscription for $19.99/ 30 days 

3 Months Subscription $39.99/ 90 days

6 Months Subscription $69.99/ 180 days
Kinkmanvideo.com
Kinkmanvideo is the perfect example of how you can set up multiple revenue streams on a single paysite. It's an adult gay porn and features some very kinky content you can't find anywhere else. Apart from unlimited streaming for the members, the website uses the integrated eCommerce store of xMember to sell Physical DVDs as well. If you are into kinky gay collections, this is the paysite to go. 
Plans:
Trial Package:

$1 for a day

1-month membership:

$30 for 30 days access

3-Month Membership:

$70 for 90s days access

2-Days visitors pass:

$9.95 for 2 days access
spankedanddiapered.com
Spankedanddiapered.com is a paysite that features excellent quality scenes focused on the mix of spanking and ABDL. The members get access to a diverse blend of content featuring popular ABDL models and performers trying out adult diapers for the first time. It focuses on the kinks such as ageplay, diaper discipline, punishment regression, and many more.
Plans:
1-Month Single payment:

$34.95

Monthly Re-billing Subscription:

$29.95

3-Months Single payment:

$74.95
How to Build an Adult Membership website
The first step in building your adult membership site is choosing the right kind of platform. Tons of membership plugins are available for popular CMS solutions like WordPress, but this is not exactly the right way to do it. 
The popular mainstream solutions are good for setting up general websites, but adult websites are not general. You need an adult membership solution, best of the best adult CMS solution, to be precise. This is where you can rely on a dedicated adult website CMS like xMember script to build your adult membership website. 
All you need to do is follow some simple steps:
Purchase xMember script from adent.io

Download the source code of the script

Purchase a good adult web hosting plan 

Install the source code on your web server

Setup the website via a graphical user interface
Add your payment methods to get the payments from members

Create access rules for each membership plans from the back-end 

Start marketing to build traffic and gaining paying customers
This is just a glimpse. xMember is one of the best porn CMS in the market. It's laden with exclusive features to nut just manage your videos and membership plans actively but it can also do a lot of other crucial tasks such as-
Managing your users

Managing the paying members

Hosting adult model profiles

Managing the categories

Schedule uploads for future

Full-fledged eCommerce store

Managing discount coupons etc
The xMember is an all in one solution for all your needs. It's more than an adult site CMS. It is a complete adult business solution with support for B2B web-services, adult payments, adult SEO, and adult digital marketing capabilities. 
It can be self-hosted

It's available with 100% source-code access

It's fully customizable and white-labeled and

There are no recurring fees to use this script 
Use xMember to build your dream adult membership website comparable with the giants like Brazzers and RealityKings. Check its live online demo today to learn more. 
How to Build Traffic for your Adult Pay Site
An adult membership site is completely different from an adult tube site. You are going to offer a premium service on your website. Hence, you need quality traffic with the potential to convert them into members. Start with building trust with your general website traffic and use the following tactic to drive them from various sources:
Instagram marketing
Instagram is one of the best places to find traffic. Sadly, Instagram does not allow pornographic content, so you won't be able to use Instagram ads. However, it doesn't mean you can't use it to drive traffic to your adult website. 
Instead of focusing on the limitations of Instagram for adult advertising, focus more on cleverly making your brand's Instagram profile a bridge to connect your followers with your website indirectly:
Boost your brand

:

Setup your profile and use it for boosting brand identity instead of advertising. Of course, you shouldn't post pornographic content at any cost, but you can make some posts that merely tease the users about the full content. 
The human touch

:

Instead of projecting your profile as something managed by a marketing team, present your human side to connect with the followers. Be active, give responses to the comments, and reply to the DMs. 
The Name Game

:

Make sure that you get your Instagram user name in the same native form as your domain name. It will make it easier for the followers to find your website by themselves. 
Embed your brand in your posts

:

Always watermark your post with your brand identity. It will help you to get the credit if people are re-using your images. Your brand identity will always be visible in case your posts go viral. 
If you can just check out the official Instagram profile of Brazzers, you can see how efficiently the brand uses the platform. They promote in full-fledged without violating a single rule on the platform. Besides, they have used the 'bio' section aptly to endorse their latest promotions well: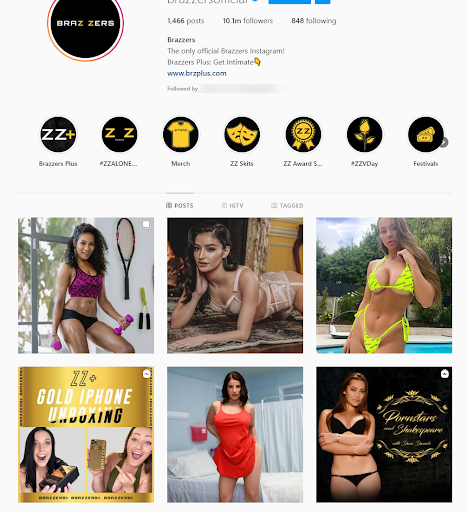 In short, use your Instagram profile to connect with the users. Use it as every other mainstream business does. Make regular posts, interact, announce about contests and offers, and host live streams with popular models. As long as you are abiding by the rules, you need not worry about anything.   
Twitter marketing 
For people like us (adult webmasters), Instagram for adult advertising is all about building relationships and a loyal base. Same as Instagram, use the micro-blogging platform to interact with people and converting users into followers. Twitter is never about massive traffic, but if the fans stick with you, that means they are loyal. Such fans would not only subscribe to your memberships more often but also spread your brand in their circles. 
So focus more on getting followers on Twitter by using the platform like any other mainstream brand.
Optimize your Twitter profile

:

Choose a username that links with your native brand identity. Include keywords that represent your brand identity and niche. Make sure you have an attractive profile with a professionally optimized website logo and bio. Include your website address in the bio with some information about it. Apply relevant hashtags, too. Avoid including nudity in your logo, banners, or any post. 
Twitter is more flexible when it comes to promotions. You can include direct links, relevant hashtags, and collaborate with pornstars with verified handles with much ease. It allows you to experiment with more than just pictures and engage with the audience for many other things. You can make announcements, declare contest results, exchange retweets, and answer queries.    
Influencers marketing
The adult industry confronts unique challenges and requires close attention. Especially in the aspects that deal with social media marketing. You need to be extra careful about the regulations that prevent adult websites from going fully explicit. One such aspect is adult influencer marketing. 
Choosing the right influencers to promote your brand can help you empower your concept and break down barriers of promotions. You need to position your brand in the market by collaborating with the right influencers that resonate with your niche. 
You can't go to fitness influencers to promote a mobile phone brand. Similarly, you need to outreach adult industry influencers to promote your adult website. 
You can collaborate with porn models, who work in your scenes, to promote your website. This would be more of a mutually beneficial relationship, where you can share social media space with your models. Look at how Eliza Ibarra retweeted a post from Brazzers, which talked about one of her scenes on the website: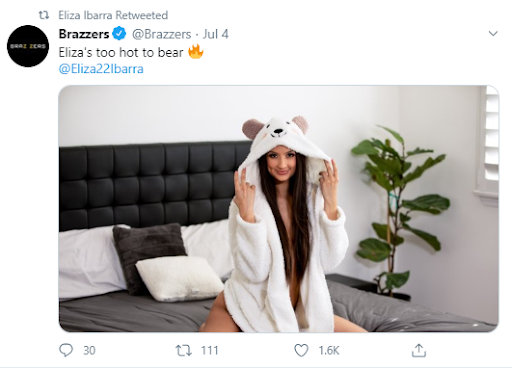 Besides, all the adult industry models and professionals have their own social media presence. Most of them even have verified profiles, blogs, and YouTube channels. You can also approach them for mutually beneficial collaborations. We have seen porn performers endorsing sex toys on their YouTube channels. 
Paid advertising 
The major part of building your adult traffic is through paid Ad campaigns. You need optimized Ad campaigns to make more money in the least investments possible. 
Work on increasing the value of your earnings as you grow your traffic. Learn how to monetize your paid traffic in the best way possible that you start making more money than you invest in driving the traffic through Ads. 
You can't use Google Ads or any mainstream Ad network. You have to rely on adult Ad networks for driving traffic. For example, Traffic Junky and Juicy Ads. These Ad networks will allow you to run paid ads for your adult website. 
The whole strategy behind running paid Ad campaigns is making some extra money out of every dollar you spend on the Ads. With time, experience, and experiments with different Ad networks and different websites, you can master this skill. 
If at any point in time you find that you are spending more than what you are making, you need to re-think the strategies of your campaign.
We can give you personalized training in adult paid ads campaigns. You can avail of this "Paid Adult Ads" course to master the skill any time you want. With guidance from our adult marketing experts, you can start running successful adult ad campaigns with much ease. 
Run Contests / Giveaways
People love trying out stuff free of cost. Two such ways to leverage this behavior is offering free trial packages and running contests.
Offer a free trial package for first-time users so that they can try out your service and experience its advantages. It would increase their trust in your brand and build confidence before they can commit to paying for your services. 
Besides, you must run contests from time to time, where you can offer prizes that build your brand loyalty. For example, you can offer free access for a week to the winners, send them merchandise, and other stuff. Running contests is one of the quickest ways to boost not just your brand awareness but also attract new users. It's one of the best ways to drive easy word of mouth popularity, too. 
The same will help you to get more and more engagement on your social media channels either. 
You can take some good cues from Pornhub about running contests on your paysite. In fact, they have a dedicated page for contests. You should check out this page to get some awesome ideas to run contests on your website.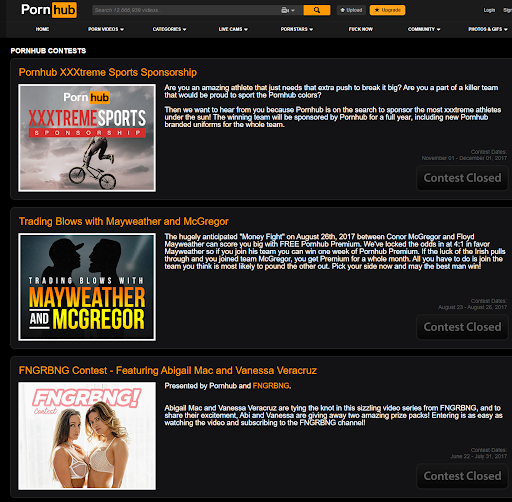 How to Sell or Increase Subscriptions
All the ways explained in the section above would help you in driving the traffic and increasing your subscriptions. However, some unique ways work best for adult membership sites. That's why I decided to dedicate an entire section to them. 
Affiliate traffic and signups play a major role:
Affiliate marketing is a big thing in adult websites. Especially for the paysites, which depend on subscriptions for revenue, it would be nice to have other businesses supporting you. That's what affiliate traffic does. 
You should build an affiliate network and set up an affiliate portal for other marketers to sign up on your network. You can use NATS, which is a stable, scalable platform to build, configure, and manage your own affiliate programs. It's completely flexible and allows you to run your program how you see fit.
You can invite adult webmasters to build tube sites, deal sites, and other affiliate marketing sites, which they can use for redirecting traffic to your membership site. A program like NATS can manage everything from handling the recurring commission to the affiliate sites to tracking affiliate sales, signup in both lifelong commission models, and monthly recurring model. 
You can use affiliate traffic for almost every product or service on your membership website:
PPC Traffic Redirection:

Adult tube sites will drive traffic to your paysite in return for commissions based on pay-per-click (PPC) or pay-per-million (PPM) models.

Affiliate Commission:

Sites can redirect traffic to your membership site, where if the redirected users sign up for a membership, you can pay affiliate commission to the referrer site. For example, 30% of the membership fee as commission.
Conclusion
This post has gone fairly long, and for a good reason.
I tried my best not to repeat any information from my previous posts, or it would have gone even colossal. That's why I have hyperlinked many of my related posts in this article. I would advise you to go through the information in those posts as well.  
Also, I have linked several tools, software, and services to help you achieve this complex technical implementation as easy as possible. When I started almost a decade and a half ago, I didn't have any of these. I did everything manually, which back then was not an easy job. 
These days, you can find ready-made B2B solutions and services for almost every requirement. Be it a porn CMS, membership management, affiliate-marketing, adult paid ads, or adult SEO, you have tons of options. 
So be wise and try not to reinvent the wheel, for you can now build a cart using ready-made wheels from the market. All the best for your venture.
Join our FREE VIP Facebook Group to know more money making ways from adult sites.